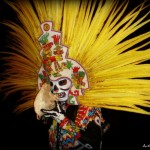 The Day of the Dead in Mexico is a holiday rooted in faith and the idiosyncrasies of the Mexican people, a celebration which mixes the Catholic religion with Hispanic culture, probably related with former Aztec rituals which connected the mortals with the underworld
While for many cultures these dates correspond with moments of sadness and meditation in which to remember relatives and friends who left this world, for Mexicans it is a moment of joy which they celebrate with traditional fun and color, maintaining respect to the importance and depth that this date represents in the calendar of religious holidays.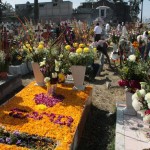 The cemeteries are illuminated with thousands of candles, they are filled with colorful flowers and with families come to visit the graves of their loved ones.
The celebration begins the evening of November 1, All Saints Day, when families prepare eye-catching colorful altars in their homes, churches or on the tombstones, dedicated to their favorite saints, where they also place pictures and belongings of their loved ones to establish a rite of communication between the two worlds.
They prepare dishes and favorite foods of their beloved departed to share when they gather around these altars.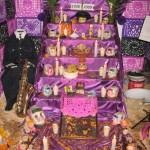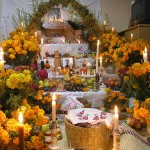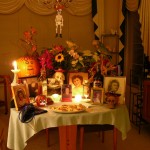 On November 2, Day of the Dead, people eat sweets in shapes of a skeleton or a cross, or sugar-made skulls… prepared especially for this day when children play around cemetery asiles, amid flowers and offerings, colorful attire, in the dim light of candles and the glow of the fireworks.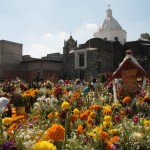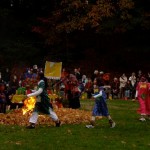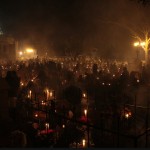 At the Hotel BlueBay Grand Esmeralda in Riviera Maya, we celebrate the Day of the Dead and All Saints Day by placing two altars: one in the restaurant and another one in the employees' dining room of employees, with people leaving their offerings at the altar, to later be donated to the collaborators.