El Barco de Avila is a beautiful town in Sierra de Gredos on the banks of the river Tormes, in front of the Sierra de Bejar. With its significant ecological value, Sierra de Gredos offers visitors stunning natural landscapes. In its foothills the river Tormes takes its origin, and together with its tributaries Aravalle and Corneja, it bathes the fields and constitute the Ribera Barcense, location of the famous Beans of El Barco that enjoy the second oldest PGI in Spain.
There is a wide variety of the Beans of El Barco: white round, white kidney, white ironed judión, arrocina, long purple and round purple, as well as various traditional ways to prepare them, typical of the town: stewed, stuffed with chorizo, prawn with mushrooms, cold, in salads, in soups, stew, gratin…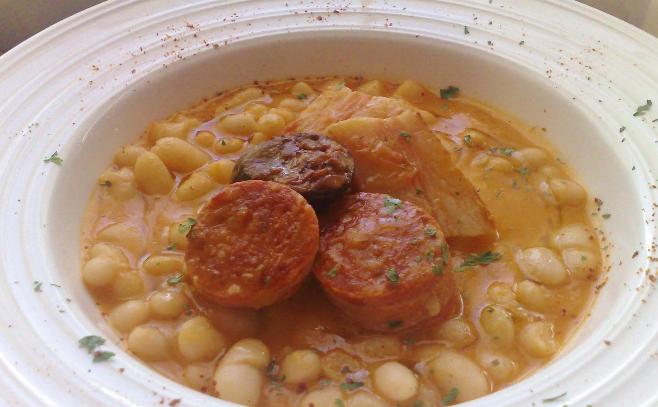 Beans of El Barco with chorizo ​​(for 4)
1/2 kg of beans of El Barco
1 ear
1 foot
100 gr. of knuckle
100 gr. off chorizo
2 dl. of olive oil
1 clove of garlic
1 onion
1 sprig of parsley
laurel
1 tablespoon of paprika
100 gr. of tomatoes
Soak the beans the day before. Start cooking them along with the ear, the foot and chorizo. Meanwhile, make a sauce with onion, garlic, tomatoes, parsley and paprika. When beans are cooked, add the sauce and boil.
If you're in the area and want to taste the authentic Beans of El Barco, the Restaurant El Castillo of the BlueCity Ávila Gredos offers them deliciously prepared. Accompanied by a Cabernet Toros de Guisando, and followed by a siesta, it is a healthy and natural way to give your body some joy!