Lanzarote's cuisine stands out for its simplicity, since it is dominated by raw materials for processing. The fruits of the sea and earth come together in this rich culinary tradition. Usually based on seafood, as it is in the case of the conejero (colloquial name of the inhabitants of Lanzarote), with sea products being the essential commodities with which traditional dishes are made. An example is the dried fish, opened and dried in the wind until the arrival of the first refrigerators to the island, was the most popular way to eat fish because of the weather that favors this type of conservation. Today, it is still being comsumed, as are the famous Canarian stew and fish sandwiches with green mojo.
But today, we want to recommend that doesn't call for a trip to the sea to catch a dogfish, simply visit the supermarket and buy 1 kg of squid. Other ingredients that require Calamares Compuestos (compound squids) for 4 persons are:
1 kg of sliced squid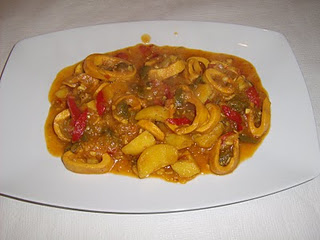 1 red pepper
1 green pepper
1 onion
2 cloves of garlic
2 or 3 potatoes (depending on size)
1 glass of white wine
1 cup of tomato sauce
Spices: thyme, parsley, cumin, bay leaf, paprika, pepper, etc.
In a pan with a little bit of oil, fry the red pepper and chopped green pepper. Add chopped onion and garlic cloves. Let soften and then glide potatoes sliced into medium pieces. Add the glass of white wine and spices, according to the taste of each person. In Lanzarote, due to its proximity to Africa, the cuisine usually uses many spices of great variety.
Let the wine evaporate and the sauce thicken. Then, take the squids and tomato sauce. Ideally, leave it simmering for at least half an hour, until the squids are tender. Serve garnished with parsley and accompanied by a delicious Malvasia Seco Bermejo.
Tip: cook the night before to eat the next day, as rested overnight it is much tastier.